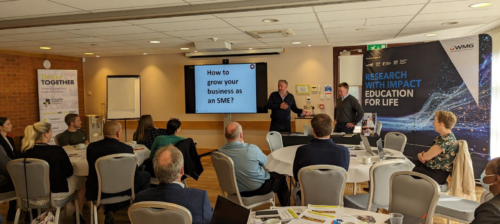 /

Jaltek invited to share their experience
The last few months have seen a resurgence in industry events and it's been great to be out and about meeting people in person again. We have been fortunate to have been invited to speak at some of the events. 
Chris Day has been presenting the 'Do's, Don'ts and Maybe's of launching new electronic products to market', most recently he could be found speaking at the Electronic Component Show, alongside Steve Drew, of TechNes, as they covered Design and Manufacturing considerations from original product definition through to production, including, the most important things to consider, along with some of the pitfalls and challenges of electronics hardware development.
Steve Pittom and Steve Blythe were invited to share Jaltek's experiences in relation to 'How to grow your Business as an SME' at the Bedfordshire SME Breakfast event, organised by the Bedfordshire Chamber of Commerce and WMG (The University of Warwick). CoC's Justin Richardson Chaired the event and WMG's Mark Swift and Helena Simmonds lead the presentations speaking about WMG's latest activities including their work on Net Zero Manufacturing.
It has been great to share experiences and ideas with industry and academic partners and we're looking forward to more events in the coming months. You can follow our activities on Linked In and Twitter.