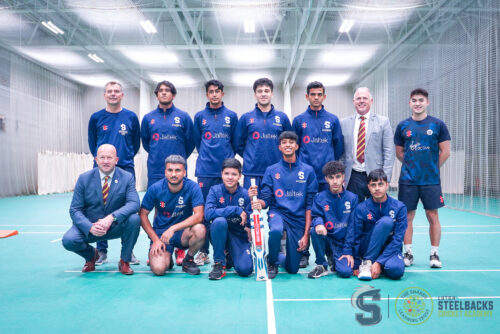 Jaltek is delighted to be supporting the Luton Steelbacks Academy, a revolutionary new sixth-form programme, launched in collaboration with The Shared Learning Trust, that sees promising young cricketers combine their studies with a taste of life as a professional athlete. 
The first cohort of young cricketers have received their team kit during a training session at The County Ground, and Jaltek is delighted to be kit sponsor for the team. 

"We had a vision of bringing education and cricket development together", said Northamptonshire County Cricket Club Chief Executive, Ray Payne.  "Over the last 18 months, along with The Shared Learning Trust, we've managed to balance cricket development with further education, leading us to this point where we have our first intake filled with a massive amount of enthusiasm". 
After a summer of training and preparation, the course officially launched at the start of the school year and the squad have now received their first Steelbacks training kit. 
Luton Steelbacks Head Coach, David Ripley, said: "This is a bigger moment than you'd think. I mentioned in our session last week that the kit had arrived and that they were going to receive it next week. The lads cheered and celebrated and hugged each other. I think that was the moment when it really struck me how much it means – the branding, the kit and becoming a part of the Steelbacks family." 
Having already received first class training from former Northamptonshire Head Coach David Ripley, and access to the professional facilities at Wantage Road once a week, the squad have been training and even playing competitive games throughout the summer.  There has been a lot of build-up and excitement within the group for the players to receive their official kit. 
"The kit is brilliant. It's been worth the wait and has given the boys a lot of joy and something to celebrate," said one of the Luton Steelbacks, Ali Asad.  "We've all been waiting very eagerly and so to see it finally come has brought a lot of happiness, now we all feel like part of one team." 
Jaltek's Managing Director, Steve Pittom said, "We're honoured to be part of such an inspirational scheme and to be able to give something back to our local community by providing the boys with their kit. It's brilliant to hear how proud they are to be wearing it and we're really looking forward to seeing all that they achieve and accomplish over the coming months."

"We've worked with the team at Jaltek on some initiatives already, with matches down in Luton, and so for them to come in as kit sponsors has been tremendous" said Ray. "The kit looks great, and the lads look like a real professional outfit with it on." 
The two-year programme aims to empower students and equip the youngsters with important life skills as well as those needed on the cricket field. The new Steelbacks Academies will open a potential pathway into professional cricket for those who may not have had that opportunity before.