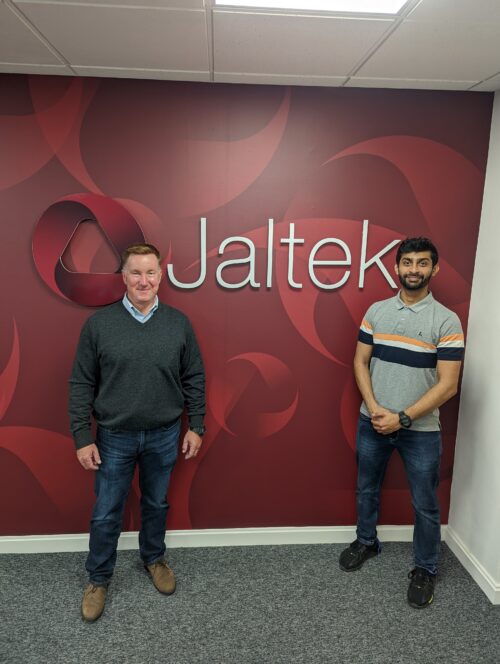 Jaltek is thrilled to announce that after taking on intern Nayan Wani, an International Technology Management postgraduate from the University of Warwick, for 12 weeks on WMG's Internship Programme*, Nayan has been offered a permanent position at the company.

Jaltek and WMG initially engaged via the Digital Innovation for Manufacturing Programme** when WMG helped Jaltek with their move into a brand-new state of the art facility, which will boost the companies turnover by several million pounds.

WMG reviewed the existing factory layout and opportunities to scale up system assembly capability in the new facility, which would provide a complete electrical assembly service for customers from design, manufacture, and test through to market.
WMG laser scanned the existing and new production facilities using state of the art equipment from their Centre for Imaging, Metrology and Additive Technologies. This enabled the team, headed up by Kieran Batchelor, from WMG, to design an optimal digital 3D version of the new facility including ergonomic workstation design.
Following this, Nayan supported the programme overseeing the project management of the new facility in order to get it up and running for the delivery of two multi-million pound products. Nayan's role was to implement "lean manufacturing" principles across the new manufacturing cells in terms of the people, the process and the technology used. He liaised with stakeholders to ensure an optimal layout and material flow.
Steve Blythe, Jaltek Systems said: "We've had a really positive experience working with WMG, Nayan did such a great job that he is now working at Jaltek permanently as a continuous improvement engineer and we have subsequently recommended WMG's digital factory optimisation tools to other businesses. Working with WMG and Nayan has helped to deliver specific projects whilst we continue to work with Sharing in Growth to transform the wider business."
The relationship between Jaltek and WMG has gone from strength to strength. Jaltek are working with WMG on a number of initiatives including a Knowledge Transfer Partnership (KTP)***. The KTP will support the further development and growth of the companies design business.
Nayan, commented on his time as an intern at Jaltek saying: "Being a project leader helped me gain a plethora of skills including project management, time management, stakeholder communication, business planning and analysis of workflow. The WMG Internship scheme is a great opportunity for graduates to understand how manufacturing organisations operate and how to apply theory in a work place. I am so excited to now be working with Jaltek going forward"
Dr Mark Swift, WMG's head of SME programmes added: "This collaboration is a perfect example of the depth and breadth of support that is available for dynamic SMEs like Jaltek thanks to regional funding and our role as a High Value Manufacturing Catapult. Working with us helps de-risk key decision making whether it's investing in new technology or moving into a new facility. We can help SMEs realise new market opportunities and transform production and operations through both our digital innovation programme and internship scheme."
About WMG's SME Programmes
WMG's SME group helps businesses make more in the UK. A team of dedicated experts work to solve the UK manufacturing challenges that matter, through analysing and improving technology and processes for a globally sustainable future. From short to long term projects as well as internships, the group is supported by regional funding and the High Value Manufacturing Catapult. For more information visit: www.warwick.ac.uk/wmgsme
*WMG's Internship Programme
The WMG Internship Programme taps into a talented pool of students, graduates and postgraduates across the UK to help manufacturing SMEs find the best candidate for the business challenges you aim to tackle. As part of the programme, the intern is supported half day a week by a WMG Engineer, to ensure that the project is delivered on schedule and at a high standard.

**The DI4M Programme
The 'Digital Innovation for Manufacturing' (DI4M) project aims to help businesses benefit from the latest in manufacturing technologies and thinking, to become more productive and competitive. It commenced in September 2018 and will have supported over 360 businesses across Coventry and Warwickshire, Greater Birmingham and Solihull, Black Country, Worcestershire, Leicester, Leicestershire and the South East Midlands by March 2023. Part funded by the High Value Manufacturing Catapult and ERDF, its mission is to increase the levels of innovation in manufacturing SMEs through introducing businesses to new technologies and techniques that can lead to productivity and profitability improvements, new supply chain opportunities and new products and services being brought to the market.

***Knowledge Transfer Partnerships
For 45 years, Knowledge Transfer Partnerships (KTPs) have been helping businesses innovate for growth. They do this by connecting businesses that have an innovation idea with the expertise to help deliver it. Right now around 800 businesses, 100 knowledge bases and over 800 graduates are involved in KTPs – collaborative, three-way partnerships creating positive impact and driving innovation. For more information visit: https://www.ktp-uk.org/