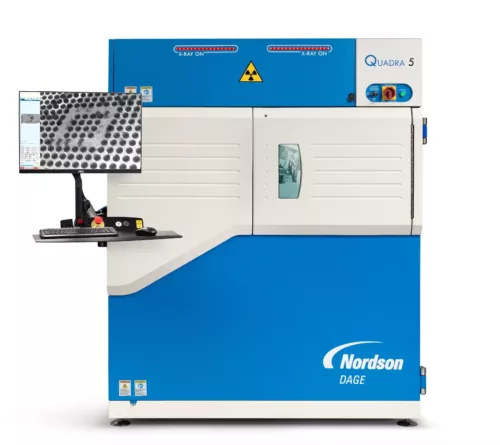 Jaltek has recently enhanced their production capability by investing in the latest inspection technology advances with the purchase of a Nordson Quadra 5 X-ray inspection system from Cupio Ltd. Quadra 5 is the leading choice for assembled PCB inspection. X-ray inspection machines, including the Cupio Quadra 5, are typically used for non-destructive testing and quality control in the manufacturing industry, as these machines utilise X-ray technology to inspect the internal structures and integrity of products or materials without damaging the product being examined. This is particularly important for delicate or valuable PCB's and products. 

Jaltek needed an X-ray inspection system that would complement their automated optical inspection (AOI) machines. With industry leading core technology, the Quadra 5 offers high performance and ease of use for 2D and 3D X-ray applications. It provides high-resolution images, allowing for detailed examination and analysis and can identify defects, contaminants, or inconsistencies in products, helping to ensure that only high-quality items reach the market.
This particular state of the art model has allowed the company to further enhance their automation and production line integration, while providing higher resolution scanning and more functionality. The machine works quickly and efficiently, helping increase productivity and allowing for higher and faster throughput, essential to support Jaltek's increasing volume of business.
Paul Livingstone, Jaltek's IT Infrastructure and Support Technician, who was heavily involved in the acquisition of the new machine, alongside colleagues Chris Cochrane, Senior Process Engineer, and Simon Lee, Quality Manager, commented saying; "We've only had the system for a couple of weeks, so it is still very new, but we have been extremely impressed with Cupio's support from the outset. When we started discussions CEO Andy Bonner wasted no time in setting up a demonstration for us. Since then, he and Ben Seviour, who are very knowledgeable about the machine, have been consistently helpful in explaining all its capabilities and are always just a phone call away. We also have the ability to share screens over a secure line and communicate in real time via remote access with them."
For Jaltek, ever-increasing integration into the production line and its equipment is another important goal, with the Quadra 5. Paul continued, 'It is already on the factory network, so any images stored on the machine can be accessed immediately by remote users across the network. The machine is also integrated into our manufacturing execution system, FactoryLogix, which is supplied by Aegis Software. This allows operators to view their work instructions and plan their upcoming actions, seamlessly bringing everything together."
Steve Pittom, Jaltek's CEO, reinforced the importance of this new asset by saying "The Quadra 5 is an important investment, and essential to keeping a competitive edge in the industry; it represents a further move towards automation and industry 4.0 for us. We are also investigating cobots and various other ideas, it is an exciting time for manufacturing." 
He continued, "We will always aim to work smarter and more efficiently with the resources we already have, however, Industry 4.0 technology ensures our production throughput and customer responsiveness is even slicker and faster, while continuing to build on our high quality standards. That's absolutely key to us, especially considering the sectors that we work with. The Quadra 5 will play a big part in realising our ambitions, and we hope to continue our relationship with Cupio, and benefit from their years of inspection experience."